Coming Together: Mark Maynard on the Emergence of New York City
Mark Maynard is Director of Operations at Union Square Hospitality Group. Maynard started as a host at Union Square Cafe 29 years ago and has held about 20 different jobs since then. He helped co-found Blue Smoke, Porchlight, Cedric's, and LoBall and currently works with USHG's business leaders to improve the company's bar programs.
What do you see happening in New York City hospitality in the next month? What about the longer-term: six months and one year?
Now that the weather is warming up, I see a slow re-emergence of our guests and a gradual re-birth for our industry. I have hope. Over the long term, I see a more robust rebound. As more people get vaccinated, office buildings will see more activity and more tourists will visit New York City. We have already seen an increase in tourism with people attracted by low airfares and hotel rooms.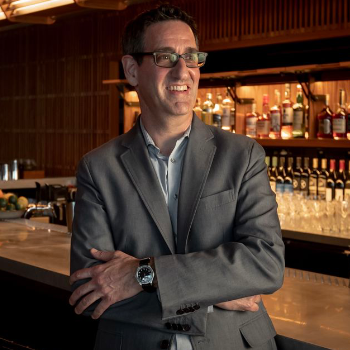 "The next big spike will be when sports and Broadway shows return. We're forecasting a busy fall/holiday season."
What has been the most surprising and positive thing to come out of the pandemic for you and the business?
One of the most surprising and positive things I have seen is that our guests more fully understand the importance of neighborhood restaurants and bars to their personal well-being. As we have re-opened, our guests have shown genuine concern for the team and the business itself. Guests have been very understanding with our limited offerings and shorter hours.
What do you think will be the next big trend in wining and dining in New York City? How do you usually respond to the "hottest new thing"?
I'm not sure if it is a trend, but I believe guests are going to be more demanding than ever of comfort, hospitality, and humanity.
"The past year has shown us the importance of caring for one another along with the consequences of division. I believe that those of us on the frontlines of the hospitality industry have a unique opportunity to change people's lives for the better."
I am not usually an early adopter of the "hottest new thing," but this is a trend I would like to get behind.
With outdoor dining more popular than ever, what does Union Square Hospitality Group have planned for outdoor entertainment, food-and-beverage-wise?
Outdoor dining has been a godsend, and the revenue from our outdoor spaces now represents about half of our sales. It's great because both guests and staff feel safer and more relaxed outside. The biggest challenge to outdoor service is the unpredictability of weather. One beautiful day can make your week, and one rainy day can break it. For businesses that had reliable sales, this uncertainty is a real challenge for the staff.
MARK MAYNARD • DIRECTOR OF OPERATIONS
271 ELEVENTH AVENUE, NEW YORK, NY 10001
BLUE SMOKE
255 VESEY ST, NEW YORK, NY 10280
OPENING SOON IN THE FLATIRON DISTRICT
UNION SQUARE
HOSPITALITY GROUP