David Suk: The Rising Star Behind Craft Moonshine
David Suk is the Founder and CEO and Founder of Saint Luna, a craft moonshine that is charcoal filtered and exceptionally smooth. On the market since May 2019, Saint Luna is a gay-owned-and-operated spirit that is fast growing and poised to reinvent the perception of moonshine. They make beautiful cocktails and have a lot of fun doing it.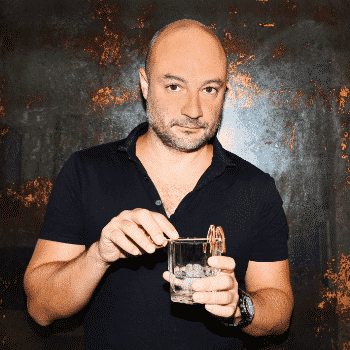 We were fortunate enough to talk with Suk about his craft, the challenges of being an LGBTQ+ business owner and what he would like to see for the future of his community.
What is something that non-LGBTQ+ business owners perhaps don't' know or don't realize about unique challenges you and your business face regularly?
As an LGBTQ+ business owner, I'm constantly—even if its subconsciously—thinking about whether it's appropriate to say I am, in fact, an LGBTQ+ owned business. I may appear unphased, but there is always a little voice in my head. Will they judge, me? Will they hold it against me? Will I be safe if I do so? In markets like NYC, you typically feel safe but there are incredibly conservative parts of Tennessee and, hey, even Long Island, NY, where we sell, that will certainly judge me for my sexuality. It's something non-LGBTQ+ business owners likely never have to think about. I tend to feel out the situation best I can, and, in some cases, being safe means not talking openly about being an LGBTQ+ business.
What role if any did being LGBTQ+ play in going into business?
You certainly learn resilience being gay, whether you are open or not. Just think about growing up and all the micro aggressions and homophobic slurs you hear that are intended to insult someone, even as a joke.
I remember having a boss years ago who wouldn't ride the elevator with me because at that point I was openly gay. If I walked into the restroom, he'd hurry and rush out. You compartmentalize, adapt, and survive.
From a business perspective, it constantly reminded me to create the opposite environment for people, something inclusive that rewarded people for their talents and certainly didn't oppress them for their sexuality, gender, or color.
How has the LGBTQ+ community rallied to support you?
It's amazing to watch the support from LGBTQ+ owned bars, and LGBTQ+ mixologists. One of my partners, Aubrey Slater, is an exceptional mixologist, an openly trans woman, and just an incredible human being. Even before she became my partner in Saint Luna, she would go out of her way to help me. One of my first accounts in Nashville was The Lipstick Lounge, one of few lesbian-owned lesbian bars. They have been incredibly supportive and have also gone out of their way to help build my brand. Even articles like this, in Backbar USA, are so incredibly helpful and supportive.
What does PRIDE Month mean to you?
For me, it's an opportunity to be seen and to show the world that we are here and we aren't going anywhere. It's a questioning or openly LGBT person in rural America who thinks they are alone seeing a glimpse of PRIDE on TV and knowing that they are not alone and that it does, in fact, get better.
How can allies and others best support LGBTQ+ businesses beyond Pride month?
Visibility during PRIDE is an incredible thing for the community. But it shouldn't just be a commercial opportunity for big corporations to sell more. Allies and our own community need to continue to demand more.
I want to see diversity in executive positions and boards and these same companies that pander for LGBTQ+ dollars during the month of June standing up equal rights.
No more donations to anti-LGBTQ+ politicians, and demand action and follow through when facing anti-LGBTQ+ legislation.
For more information about David or Saint Luna Spirits, please reach out to [email protected] or follow him on Instagram at @saintlunaspirits