Puttin' On The Fritz
You may recognize Ray Allen Fritz from the bar at Blue Smoke restaurant in New York, or during his time at Porchlight or Cedric's at the Shed, all part of the Union Square Hospitality Group's collection of experiences. Not only is Fritz skilled with a shaker, he's also a master cocktail creator. When dreaming up the PRIDE cocktail for the collaboration with Hendrick's Lunar Gin, Fritz was inspired by the classic Corpse Reviver #2 cocktail and named it the Blue Horizon for its vibrant color.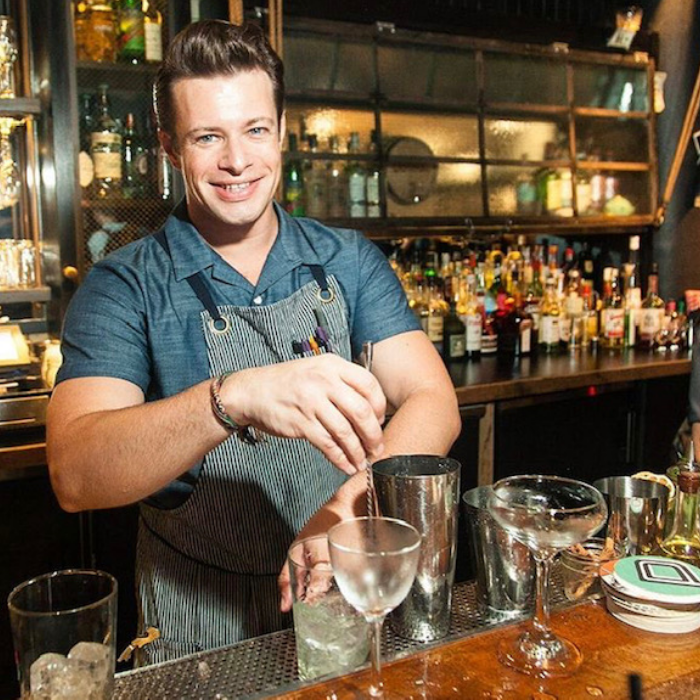 "Blue skies are most brilliant after the darkness of night and storms. After a struggle, we can always look to a brighter future with limitless possibilities."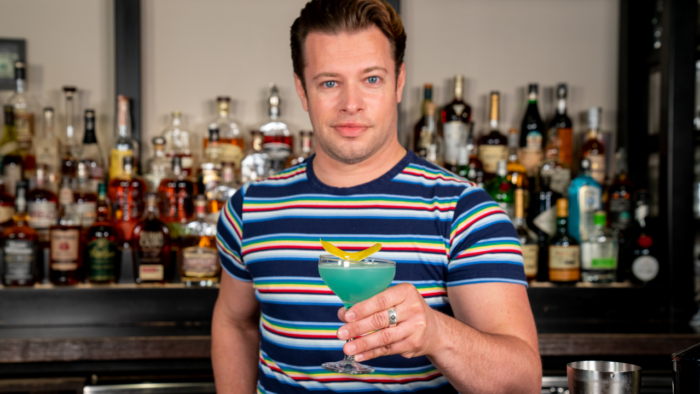 We met up with Fritz to talk about Blue Smoke, company culture and all things PRIDE.
Tell us a little bit about Blue Smoke.
Blue Smoke is a barbecue restaurant that embraces all traditions and regions of barbecue and brings them to New York City. It was one the first restaurants to lead the way in the NYC barbecue surge. I started out with the company as a host/reservationist and transitioned to a barback and then bartender. I also worked with the opening team of both Porchlight Bar as a bartender and then Cedric's as a bar manager.
How would you describe your company's culture?
At the very heart of this company is the philosophy of taking care of each other first before any other stakeholders. There is a genuine culture of Enlightened Hospitality that not only champions the growth of the business as a whole but does so by supporting and actively fostering the growth and well being of all of its employees! Individuality and uniqueness are celebrated.
In your view, what has been the most positive change for the LGBTQ+ community in the past five years? What would you like to see in the next five years?
I believe that the expansion of rights and protections for the LGBTQ+ community has been essential to the positive changes that have impacted the lives of everyone. Starting with the legalization of gay marriage, this expanded to job protections, anti-discrimination laws, health care reform and protection, privacy laws, and the list goes on. Many of these basic human rights were endangered in the last four years and, thankfully, because there were laws, they stayed in place.
The more concrete protections and rights marginalized people have—in particular, the LGBTQ+ community—the more equal they are in the eyes of the whole of society.
Do you have specific inclusion practices and policies at your business? What are they?
Our company has championed equality within our family since its beginnings in the mid-1980s. There are many resources, policies, trainings, and guidelines to ensure a safe and respectful work environment where no form of discrimination or inequality is tolerated. They have always offered insurance to gay couples, family leave for same-sex parents, resources to report discrimination, and even participate in support of charities such as the AIDS Walk and various other LGBTQ+ charities and organizations. An environment of individual expression in all forms is celebrated in USHG.
How do you support other LGBTQ+-owned brands/businesses? Why and how is that important (to you)?
I chose to support LGBTQ+-owned businesses on a daily basis. The simple act of patronizing or purchasing from an LGBTQ+ business is a "life-line" in itself, particularly after the struggles that COVID-19 has ushered in. Supporting small neighborhood bookstores, bars and restaurants, and other venues that are a safe place for all individuals, enriches the entire scope of our neighborhoods. Choosing to support companies that focus on giving back to and supporting their LGBTQ+ communities are always a must! It allows us to elevate one another.
What does PRIDE Month mean to you?
I do feel we should live everyday with PRIDE and intention. PRIDE Month offers us a moment to reflect, celebrate, mourn, commune, and look to the future. To celebrate both our unique aspects and reaffirm our strength as a whole community. This month allows us to pause and take stock of where we have been, consider where we are in the present, and ultimately refocus on a brighter future of equality.
We often forget the sacrifices and battles that were fought just a short time ago so that we can not only exist but flourish and be fully a part of society as our authentic selves.