The Pineapple Of His Eye: Steven Minor On His Latest Libation Sensation
Steven Minor is the Beverage Director for 1 Hotels, the world's finest sustainable luxury hotel experience. With the 1 Hotels portfolio spanning from South Beach and Brooklyn to Los Angeles, Steven uses his passion and creativity to transform beverage menus across the country. When he's not dreaming up ways to elevate how people imbibe, this 20-year hospitality veteran enjoys making homemade pizza with his daughter, Scarlett, sharing a nice bottle of Amarone with his wife, Carolina, or—surprise!—making cocktails at his home bar.
We were able to chat with Steven about the Al Pastor, a spicy sipper inspired by the Al Pastor street taco. This popular Mexico City fare is usually topped with pineapple, a prominent ingredient in this not-so-mainstream margarita. Discover more about the Al Pastor and how to make it.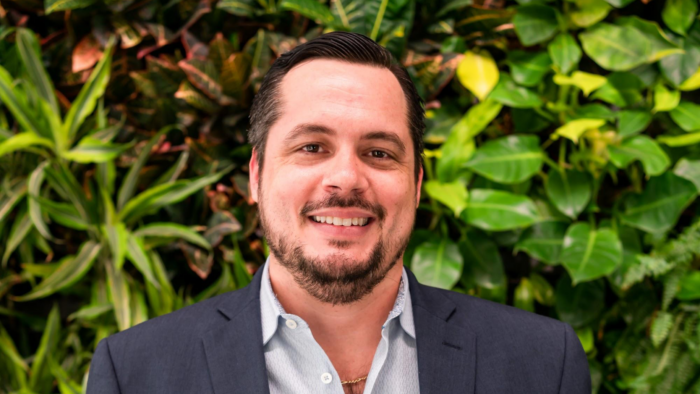 Tell us about the Al Pastor.
"Al Pastor" is part of our new Harriet's Rooftop Margarita section, which rolled out just in time for the spring and summer season. It's a spicy and savory riff on a margarita, incorporating grilled pineapple and Al Pastor flavors.
Al Pastor features flavors that combine traditional Middle Eastern spices with those indigenous to Central Mexico.
We use a double-infusion technique for the tequila, infusing it traditionally at room temperature via maceration then flash blending it to extract even more pineapple flavors.
It is served over a crystal-clear, large-format ice cube in a rocks glass rimmed with our house al pastor salt and garnished with a dehydrated grilled pineapple wheel, making it very Instagram-worthy.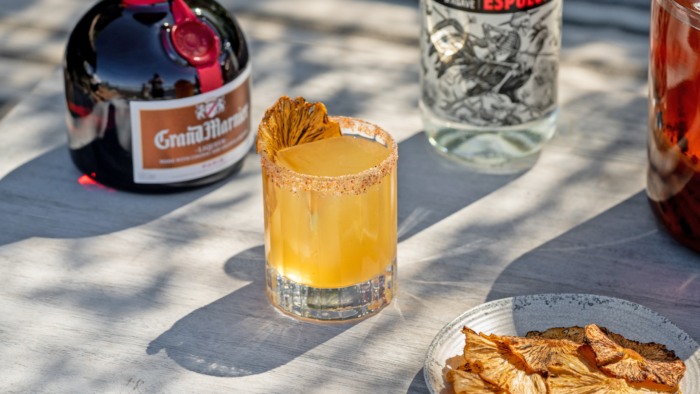 What makes this cocktail unique to your properties? What about the cocktail makes it unique to NYC?
We love riffs on spicy margaritas and offer multiple options throughout our properties. This is a nod to the Mexican culture that has proliferated within the New York City dining scene and is an example of how diverse and versatile Mexican ingredients can be.
What is the key spirit/brand or ingredient used that makes this cocktail stand out?
We use Espolòn Blanco as the base for the Al Pastor grilled-pineapple-infused tequila and a touch of Grand Marnier Cognac-based orange liqueur to make the cocktail a well-rounded, savory, spicy, and tart rooftop libation.
Ready to treat yourself? Here's how to create this perfect warm-weather cocktail.
For the Al Pastor Margarita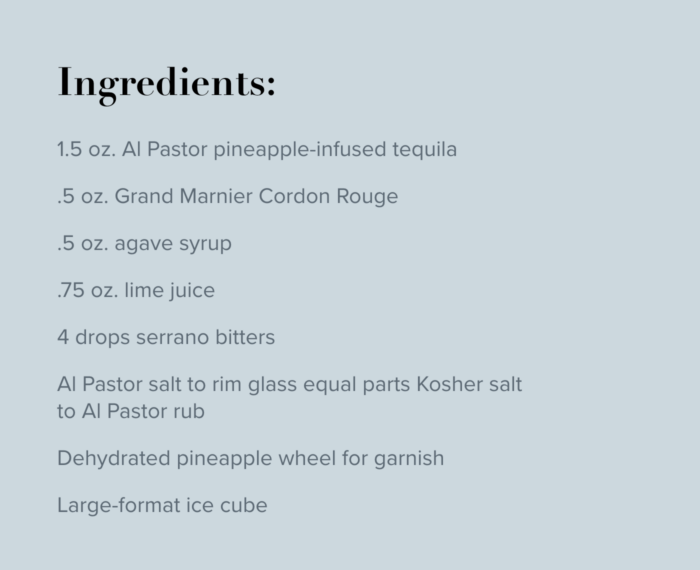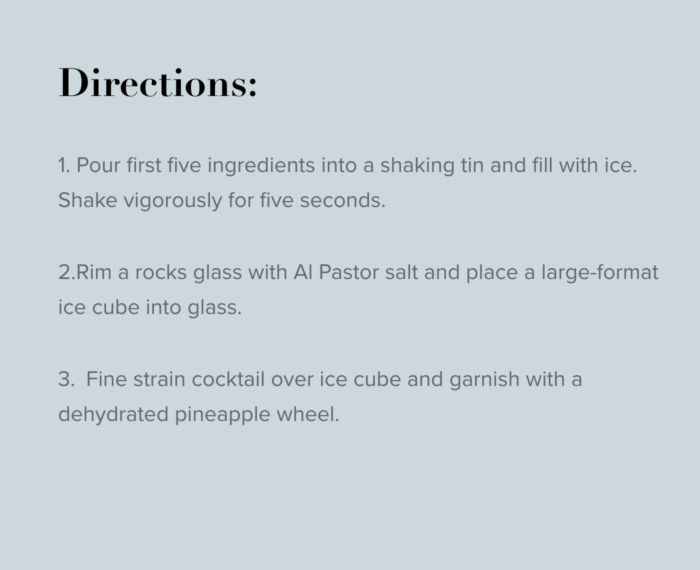 For the Grilled-Pineapple-Infused Tequila